Infinity Compressed Air System was installed in Apollo's new Global Headquarters in Northgate Queensland.
The headquarters also houses their new megafactory which was re-located from its previous site across the road. The new location combines all aspects of their manufacturing lines which includes the Apollo rental and Winnebago motorhome brands. To achieve this Infinity Pipe Systems compressed air pipe system was installed.
Apollo currently has the largest fleet of campervans and motorhomes in Australia with branches all over Australia and the world.
Brief Overview
Our Infinity Project Manager Jason Warrington was tasked with liaising with all levels of management to design, install and manage the Queensland branch's compressed air ring main system. The ringmain incorporated the latest in a specially formulated breakaway dropper design system ensuring worker, environment and product safety.
Project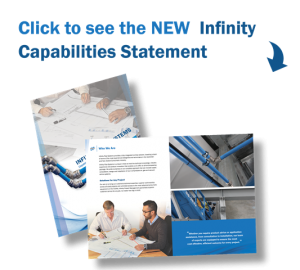 Utilising all facets of the Infinity system, we were able to design a special breakaway dropper enabling complete air shutoff in the event of an accident. This design was paramount for the customer's consideration as they wanted to protect worker, environment and product from damage in the event that the unthinkable should happen. Overall project aims were efficiency, reduction in materials, safety and ease of expansion over the life of the plant.
Pipework
A complete Infinity pipe ringmain was installed incorporating an 80mm trunkline with 63mm return and access lines. 92 25mm drops in standard, safety and soft configuration were integrated with the patented reducing tee fitting to control moisture. ROSS safety air fuses were added for protection and dropper hoses were joined via slide off barbs and breakaway chains. Special safety socks were installed at certain points of use to prevent employee harm and product damage. The rainmain system transported compressed air throughout the entire span of the workshop with the ability to isolate air to certain areas.
This Infinity installation was project managed by Infinity Pipe Systems team located in Queensland. Whether you are in need of project management, technical information, design solutions, installation, or just some advice, Contact Us today.