The main function of pneumatic tubing and hose is to deliver compressed air to actuators, valves, and other air tools.
Push-in fittings or couplings are usually attached to the hose or tubing and then connected to the compressed air tool. It is important to ensure that the fitting and tubing or hose are compatible with each other.
Factors to consider when selecting the right tubing or hose for your application
Ease of installation
Pressure-holding capacity
Size and weight
Corrosion resistance and cost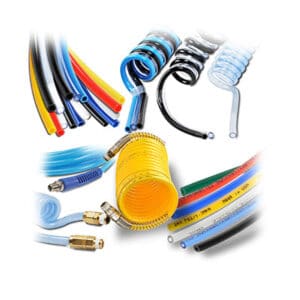 The following materials are commonly used to make pneumatic tubing and hose.
Polyurethane
PVC
Nylon
Polyethylene
PTFE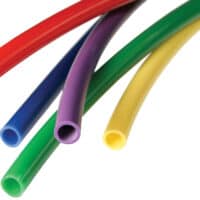 Infinity Push-In Fittings
Ready-to-use compact one-piece fittings are made from nickel-plated brass and are compatible with air, vacuum, water and steam.
Main advantages
Quick connection and disconnection
Full Flow and Vacuum resistant thanks to special-shaped seals
Clamp strength withstands severe conditions, such as impact and vibrations
3 threads available, BSPP, BSPT (universal short) & Metric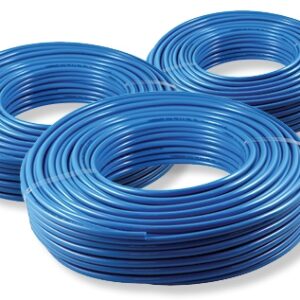 Infinity Push-In Fittings work perfectly with Infinity Polyurethane Tubing
Polyurethane tubing is usually the best choice for applications that require extensive flexing, a small bend radius or where kinking can be a problem.
Infinity stocks a variety of polyurethane and rubber hose and tubing, which are suitable for a range of applications. See more here.
Infinity Pipe Systems stock a variety of flexible tubing, hose and pipe options. Many of the material options are also compatible with fluids other than compressed air. Get in touch with us with your requirements today.