Pneumatic Axial Valve
Code Number – 90740
Simple in operation
Fully self-contained
No need for alternative power air or electric comes from inside the valve
Ideal for remote shut off high in the roof, or emergency shut due to blow hose etc.
Single sections of the system can be shut off leaving the rest of production to run
Comes complete with fittings
Compact and lightweight when compared to heavy air operated ball valves
Pneumatic switch or solenoid operated
Sizes range from 32mm to 63mm
Description
Technical
Contact Form
Description
Product Description
Designed to overcome the limitations of traditional actuators, the Infinity Pneumatic Axial Valve is the complete package.
| | |
| --- | --- |
| Code | Description |
| INAV32 | Pneumatic Axial Valve 32mm |
| INAV40 | Pneumatic Axial Valve 40mm |
| INAV50 | Pneumatic Axial Valve 50mm |
| INAV63 | Pneumatic Axial Valve 63mm |
The valve is normally closed and it uses the pipeline pressure to open and close the compressed air flow.
If not piloted, with a minimum pressure of 2 bar the valve transits from closed to open position spontaneously. The valve is fully open with pipeline pressure around 3.5 bar.
If pressure drops under 2 bar the valve automatically closes. This is the minimum pressure that remains in pipeline sections not affected by failure.
The pipeline pressure is always available on the outlet "Pilot Pressure". Using a pneumatic or electropneumatic deflector is possible to flow this pressure to the "Closing Port" in order to close the valve immediately.
Technical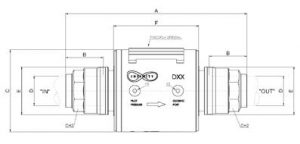 mm
| | | | | | | | | |
| --- | --- | --- | --- | --- | --- | --- | --- | --- |
| Code | D | Kv | A | B | C | E | F | CH2 |
| 90740 00 003 | 32 | 78 | 198 | 46 | 89 | 52 | 92,6 | 45 |
| 90740 00 004 | 40 | 101 | 208 | 52 | 89 | 63 | 92,6 | 55 |
| 90740 00 005 | 50 | 168 | 249 | 63,5 | 109 | 73 | 110 | 65 |
| 90740 00 006 | 63 | 300 | 269 | 57,5 | 139 | 94 | 140,3 | 75 |