OF Filter
Code Number – IN-F2000
Designed to complement the Infinity Pipe System
Sintered filter with water separator
Pipe mounting or foot mounting
Comes with bracket
Grade of filtration: 40µm
Description
Technical
Contact Form
Description
Product Description
Almost any pneumatic system will function better and for a longer period with properly conditioned air. In fact, many system components, such as air cylinders and motors, may be vulnerable to significant damage from dirty or un-lubricated air.
The Infinity OF filter, complete with water separator, removes fluid, oil, condensation and dirt particles from the air stream to protect downstream equipment from contamination.
As air enters the filter, internal baffles create a swirling motion in the air so that dirt and liquids are thrown against the sides of the filter bowl.
While other filters on the market normally consist of a piston style system, the OF filter features a diaphragm, resulting in a larger internal area and more control.
A market leading product, the OF filter offers a 16 bar maximum pressure rating, making it a perfect complement to the Infinity aluminium pipe.
| | | | | | | | |
| --- | --- | --- | --- | --- | --- | --- | --- |
| CODE | SIZE | DESCRIPTION | RATED FLOW (L/MIN) | PORT SIZE | MAX PRESSURE PSI | MAX CONDENSATE CAPACITY | MAX TEMP |
| IN-F2000-1/4 | MINI | OF Filter Mini 1/4" | 1200 | 1/4 | 16 bar | 22ml | 0 – 60°C |
| IN-F3000-1/4 | MIDI | OF Filter Midi 1/4" | 2500 | 1/4 | 16 bar | 43ml | 0 – 60°C |
| IN-F3000-1/2 | MIDI | OF Filter Midi 1/2" | 3000 | 1/2 | 16 bar | 43ml | 0 – 60°C |
| IN-F5000-3/4 | MAXI | OF Filter Maxi 3/4" | 5000 | 3/4 | 16 bar | 80ml | 0 – 60°C |
| IN-F5000-1 | MAXI | OF Filter Maxi 1" | 5300 | 1 | 16 bar | 80ml | 0 – 60°C |
Technical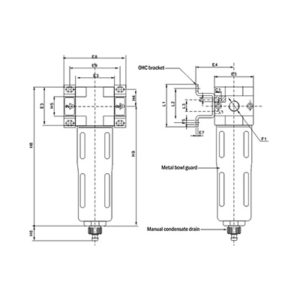 (mm)
| | | | | | | | | | | | | | | | | |
| --- | --- | --- | --- | --- | --- | --- | --- | --- | --- | --- | --- | --- | --- | --- | --- | --- |
| SIZE | E3 | E4 | E7 | E8 | E9 | F1 | F4 | F5 | L1 | L2 | L3 | H4 | H5 | H6 | H8 | H9 |
| MINI | 40 | 39 | 2 | 64 | 52 | 1/4" | M4 | 4.5 | 44 | 35 | 11 | 17.5 | 20 | 15 | 144 | 129 |
| MIDI | 55 | 47 | 3 | 85 | 70 | 1/4", 1/2" | M5 | 5.5 | 71 | 60 | 22 | 24.5 | 32 | 15 | 179 | 156 |
| MAXI | 66 | 53 | 3 | 96.116 | 80.91 | 3/4", 1" | M5 | 5.5 | 71 | 60 | 22 | 24.5 | 32.40 | 15 | 203 | 175 |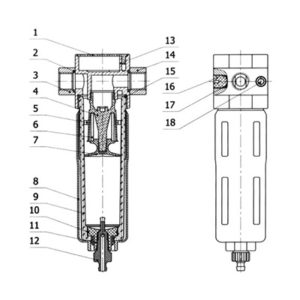 | | | |
| --- | --- | --- |
| NO. | DENOMINATION | MATERIAL |
| 1 | Ornament cover (round) | POM |
| 2 | O-ring | NBR |
| 3 | Flange - IN | Zinc alloy |
| 4 | Filter element base | POM |
| 5 | Whirlwind impeller | POM |
| 6 | Filter element | PE |
| 7 | Manger | POM |
| 8 | Metal bowl guard | Aluminium alloy |
| 9 | Filter bowl | PC |
| 10 | O-ring | NBR |
| 11 | Inner joint | POM |
| 12 | Condensate drain | POM |
| 13 | OF body | Zinc alloy |
| 14 | Flange - OUT | Zinc alloy |
| 15 | O-ring | NBR |
| 16 | Plug | POM |
| 17 | O-ring | NBR |
| 18 | Allen screw | S35C |