OL Lubricator
Code Number – IN-L2000
Designed to complement the Infinity Pipe System
Pipe mounting or foot mounting
Complete with bracket
Description
Technical
Contact Form
Description
Product Description
Many components in a pneumatic system must be lubricated, especially ones with moving parts.
The Infinity OL lubricator is a direct constant-density lubricator that adds regulated quality oil to the compressed air, using a valve to keep oil mist content proportional to the compressed air flow. The oil drip rate is controlled by means of the regulating screw, for which 1 to 12 drops/1000L air is usually sufficient.
The OL lubricator offers a 16 bar maximum pressure rating, making it a perfect complement to the Infinity aluminium pipe, and is best used in conjunction with the Infinity OF filter and OR regulator.
| | | | | | | | |
| --- | --- | --- | --- | --- | --- | --- | --- |
| CODE | SIZE | DESCRIPTION | RATED FLOW (L/MIN) | PORT SIZE | MAX PRESSURE PSI | MAX CONDENSATE CAPACITY | MAX TEMP |
| IN-L2000-1/4 | MINI | OL Lubricator Mini 1/4" | 2300 | 1/4 | 16 bar | 22ml | 0 – 60°C |
| IN-L3000-1/4 | MIDI | OL Lubricator Midi 1/4" | 5000 | 1/4 | 16 bar | 43ml | 0 – 60°C |
| IN-L3000-1/2 | MIDI | OL Lubricator Midi 1/2" | 6100 | 1/2 | 16 bar | 43ml | 0 – 60°C |
| IN-L5000-3/4 | MAXI | OL Lubricator Maxi 3/4" | 8400 | 3/4 | 16 bar | 80ml | 0 – 60°C |
| IN-L5000-1 | MAXI | OL Lubricator Maxi 1" | 9000 | 1 | 16 bar | 80ml | 0 – 60°C |
Technical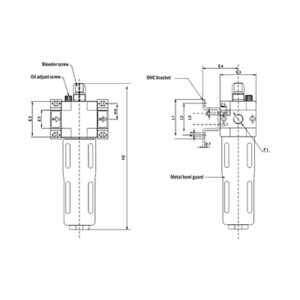 (mm)
| | | | | | | | | | | | |
| --- | --- | --- | --- | --- | --- | --- | --- | --- | --- | --- | --- |
| SIZE | E3 | E4 | E7 | F1 | F4 | F5 | L1 | L2 | L3 | H4 | H5 |
| MINI | 40 | 39 | 2 | 1/4" | M4 | 4.5 | 44 | 35 | 11 | 17.5 | 20 |
| MIDI | 55 | 47 | 3 | 1/4", 1/2" | M5 | 5.5 | 71 | 60 | 22 | 24.5 | 32 |
| MAXI | 66 | 53 | 3 | 3/4", 1" | M5 | 5.5 | 71 | 60 | 22 | 24.5 | 32.40 |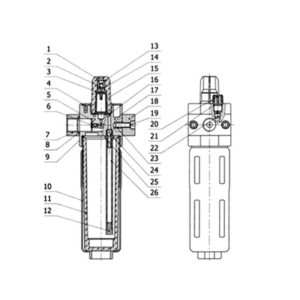 | | | |
| --- | --- | --- |
| NO. | DENOMINATION | MATERIAL |
| 1 | Upper glass | PC |
| 2 | Adjust screw | Brass |
| 3 | O-ring | NBR |
| 4 | Ornament cover (circular) | PO |
| 5 | Windshield chip | NBR |
| 6 | Windshield base | Brass |
| 7 | Flange - IN | Zinc alloy |
| 8 | O-ring | NBR |
| 9 | O-ring | NBR |
| 10 | Metal bowl guard | Aluminium alloy |
| 11 | Lubricator bowl | PC |
| 12 | Oil-filter plug | Brass powder sintered |
| 13 | O-ring | NBR |
| 14 | Screw base | Brass |
| 15 | Oil dropping | PC |
| 16 | Seal piece | NBR |
| 17 | OL Body | Zinc alloy |
| 18 | Flange OUT | Zinc alloy |
| 19 | Allen screw | S35C |
| 20 | Bleeder screw | POM |
| 21 | O-ring | NBR |
| 22 | Valve pin | Brass |
| 23 | Double-end bolt | SUS |
| 24 | Steel ball | SUS304 |
| 25 | Oil tube connection | POM |
| 26 | Oil tube | PU |