OR Regulator
Code Number – IN-R2000
Designed to complement the Infinity Pipe System
Pipe mounting or foot mounting
Complete with gauge and bracket
Description
Technical
Contact Form
Description
Product Description
In all pneumatic systems, the pressure of the air can fluctuate. This is normally caused by air being exhausted from the compressor tank into the system, or when the tank is replenished by the compressor.
The OR regulator maintains constant operating pressure in the system, despite fluctuation in line pressure and air consumption, and offers various range settings allowing the pressure to be adjusted to the required level.
The Infinity OR regulator offers a 16 bar maximum pressure rating, making it a perfect complement to the Infinity aluminium pipe, and is available in a tamper proof option. It features a diaphragm type structure and pipe or bracket mounting, and is best used in conjunction with the Infinity OF filter.
| | | | | | | |
| --- | --- | --- | --- | --- | --- | --- |
| CODE | SIZE | DESCRIPTION | RATED FLOW (L/MIN) | PORT SIZE | MAX PRESSURE PSI | MAX TEMP |
| IN-R2000-1/4 | MINI | OR Regulator Mini 1/4" | 1500 | 1/4 | 16 bar | 0 – 60°C |
| IN-R3000-1/4 | MIDI | OR Regulator Midi 1/4" | 3000 | 1/4 | 16 bar | 0 – 60°C |
| IN-R3000-1/2 | MIDI | OR Regulator Midi 1/2" | 3500 | 1/2 | 16 bar | 0 – 60°C |
| IN-R5000-3/4 | MAXI | OR Regulator Maxi 3/4" | 11000 | 3/4 | 16 bar | 0 – 60°C |
| IN-R5000-1 | MAXI | OR Regulator Maxi 1" | 11500 | 1 | 16 bar | 0 – 60°C |
Technical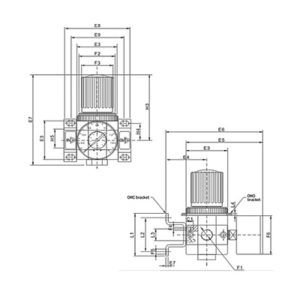 (mm)
| | | | | | | | | | | | | | | | | | | | |
| --- | --- | --- | --- | --- | --- | --- | --- | --- | --- | --- | --- | --- | --- | --- | --- | --- | --- | --- | --- |
| SIZE | E3 | E4 | E5 | E6 | E8 | E9 | F1 | F2 | F3 | F4 | F5 | F6 | L1 | L2 | L3 | L4 | H3 | H4 | H7 |
| MINI | 40 | 39 | 76 | 95 | 64 | 52 | 1/4" | M36*1.5 | 31 | M4 | 4.5 | 40 | 44 | 35 | 11 | Max.3 | 69 | 17.5 | 96 |
| MIDI | 55 | 47 | 93 | 112 | 85 | 70 | 1/4", 1/2" | M52*1.5 | 50 | M5 | 5.5 | 52 | 71 | 60 | 22 | Max.5 | 98 | 24.5 | 96 |
| MAXI | 66 | 53 | 104 | 124 | 96.12 | 80.91 | 3/4", 1" | M36*1.5 | 31 | M5 | 5.5 | 63 | 71 | 60 | 22 | Max.4 | 80 | 24.5 | 96 |
| | | |
| --- | --- | --- |
| NO. | DENOMINATION | MATERIAL |
| 1 | Pressure knob | POM |
| 2 | Regulator cap | POM |
| 3 | Regulator nut | S35C |
| 4 | Adjusting spindle | S35C |
| 5 | Pressure spring | SWC |
| 6 | Fixed ring | 6061-T6 |
| 7 | One part of membrane | NBR |
| 8 | O-ring | NBR |
| 9 | Flange IN | Zinc alloy |
| 10 | Spool | Brass |
| 11 | O-ring | NBR |
| 12 | O-ring | NBR |
| 13 | Fasteners | Brass |
| 14 | Locker cover | Zinc alloy |
| 15 | Wearing sheet | Insulation sheet |
| 16 | OR Sheet | NBR |
| 17 | Overflow base | 6061-T6 |
| 18 | One part of diaphragm | SPCC |
| 19 | Diaphragm | NBR |
| 20 | O-ring | NBR |
| 21 | OR body | Zinc alloy |
| 22 | Plug | POM |
| 23 | O-ring | NBR |
| 24 | Flange OUT | Zinc alloy |
| 25 | Allen screw | S35C |
| 26 | Spring | SWPB |