OU Filter Regulator Lubricator
OU Filter Regulator Lubricator
OU Filter Regulator Lubricator
Code Number – IN-FLR2000
Designed to complement the Infinity Pipe System
Pipe mounting or foot mounting
Complete with gauge and bracket
Grade of filtration: 40µm
Description
Technical
Contact Form
Description
Product Description
The Infinity OU consists of an OFR filter regulator and an OL lubricator, making it the perfect all in one package for a compressed air system.
The OF filter with water separator cleans the compressed air of fluid, oil, condensation and dirt particles, while the OR regulator maintains constant operating pressure despite fluctuation in line pressure and the amount of air consumed. Meanwhile, the OL lubricator works to add regulated quality oil to the filtered air.
It's 16 bar pressure rating makes the OU filter regulator lubricator a perfect complement to the Infinity aluminium pipe.
| | | | | | |
| --- | --- | --- | --- | --- | --- |
| CODE | SIZE | DESCRIPTION | PORT SIZE | GRADE OF FILTRATION | PRESSURE REGULATION RANGE |
| IN-FLR2000-1/4 | MINI | OU Filter Reg Lubricator 1/4" | 1/4" | 40µm | 0.5…12bar |
Technical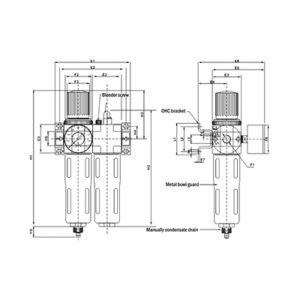 (mm)
| | | | | | | | | | | | | | | | | | | | | | | |
| --- | --- | --- | --- | --- | --- | --- | --- | --- | --- | --- | --- | --- | --- | --- | --- | --- | --- | --- | --- | --- | --- | --- |
| SIZE | E1 | E2 | E3 | E4 | E5 | E6 | E7 | F1 | F2 | F3 | F4 | F5 | F6 | L1 | L2 | L3 | H1 | H2 | H3 | H4 | H5 | H6 |
| MINI | 104 | 92 | 40 | 39 | 76 | 95 | 2 | 1/4" | M36*1.5 | 31 | M4 | 4.5 | 40 | 44 | 35 | 11 | 194 | 169 | 69 | 17.5 | 20 | 15 |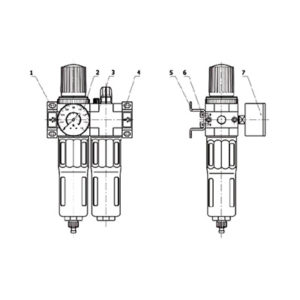 | | | |
| --- | --- | --- |
| NO. | DENOMINATION | MATERIAL |
| 1 | Flange IN | Zinc alloy |
| 2 | Filter + Regulator | - |
| 3 | Lubricator | - |
| 4 | Flange OUT | Zinc alloy |
| 5 | Bracket | SPCC |
| 6 | Allen screw | S35C |
| 7 | Pressure gauge | - |