Aluminium piping is now the Australian industry standard for compressed air but plastic fittings is not!
Many companies are making the switch to the new industry standard for compressed air – Aluminium piping. However, many of the benefits associated with an aluminium system are lost with the addition of plastic fittings.
Infinity all metal piping system is specifically designed with energy savings in mind, all Infinity fittings are nickel plated or aluminium. Infinity pipe and fittings keep the fluid flow laminar; therefore reducing turbulence, minimising pressure drop and removing condensation. Plastic fittings are unable to withstand high pressures and temperatures along with a higher corrosion rate, nickel plated and aluminium fittings are the smarter choice.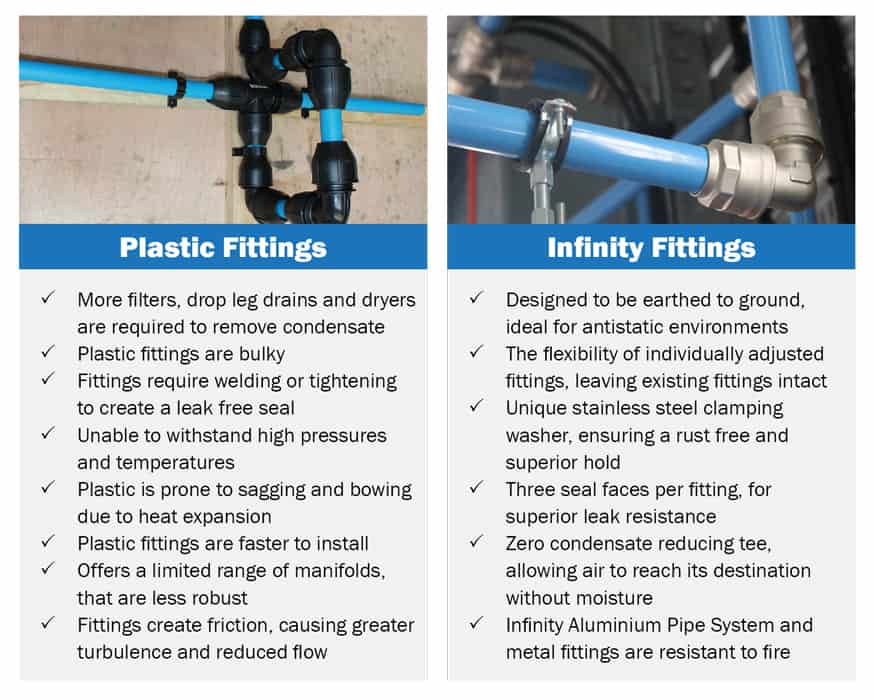 Infinity Fittings
1. Designed to be earthed to ground, ideal for antistatic environments
The Infinity High Flow fittings range – comprising of 63mm, 80mm & 110mm – are manufactured in aluminium to save weight and keep costs down. The smaller ranges of fittings (20mm – 50mm) are constructed of nickel plated brass. As a result, Infinity Aluminium Pipe is suitable to ground to earth and, most importantly, maintain the strength required to span across large spaces with no support and no damaging chemical reactions.
2. The flexibility of individually adjusted fittings, leaving existing fittings intact
The Infinity push-in system is as simple as pushing the pipes together for automatic connection, with no welding, gluing or crimping. Your new system goes up fast, and because the aluminium pipes are inherently stronger and stiffer than plastic pipes, you save even more time because they only require half the mounting brackets.
3. Unique stainless steel clamping washer, ensuring a rust free and superior hold
The stainless steel washer ensures the perfect tube clamping on all types of metals, without damage to the surface. The connection between the tube and fitting, and the particular geometric shape of the seal, ensures a total tightness for all applications, even in severe conditions such as impact and vibrations.
4. Three seal faces per fitting, for superior leak resistance
Each fitting is installed with seal faces made from NBR, this assists with leak resistance and insures that all Infinity fittings consistently leak free.
5. Zero condensate reducing tee, allowing air to reach its destination without moisture.
One of the many technologically advanced features of the Infinity system is the zero condensate reducing tee.
This efficient internal system allows the fluid to reach its destination without any damaging condensation reaching equipment. Condensation stays within the ring main and can be drained off at the most convenient point.
6. Infinity Aluminium Pipe System and metal fittings are resistant to fire.
The non-ferrous material used in both fittings and tube, results in the melting point of both items being a lot closer than alloy and plastic (or composite). The benefit of using similar materials within the Infinity Aluminium Pipe System means that in the event of a fire, the whole system will fail together when specified limits are reached. This allows other fire systems, such as intumescent fire collars, to activate accordingly. In doing so, protecting the integrity of the system. The use of a non-metalized alloy system (such as plastic fittings) may see the failure of fittings prior to the tube, feeding the fire with compressed air as a result.