In a compressed air piping system, a reducing tee allows you to join the same size air pipe with an intersecting smaller pipe to form a T junction. Reducing tees are used to redirect the pipeline to a dropper which may be connected to a piece of equipment such as an air hose reel.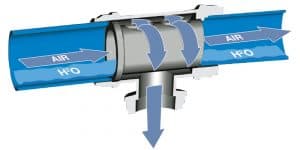 Reducing Tee Available from Infinity Pipe Systems
Infinity's Zero Condensate Reducing Tee is an innovative solution that provides a quick and simple solution to the problem of condensate in your compressed air piping system. The internal system of the tee allows the fluid to be removed without any damaging condensate reaching your equipment.
Not only does this increase the lifespan of your equipment but it also ensures consistent flow and pressure throughout your air pipe. Any condensate that remains within the ring main can be drained at whichever point is most convenient.
Infinity's reducing tee also eliminates the need for conventional swan neck and drain valves by automatically reducing the size of the ring main to a smaller drop leg diameter. This allows you to connect your air pipe to the dropper and a range of equipment. No matter what size air pipe you are using, we have a connector for it.
Another advantage is that the reducing tee can be used vertically or horizontally with the internal barrel able to be rotated the full 360 degrees for any off shoot lines. If you design correctly, it can also replace couplers in your compressed air piping system.
Reducing Tee Structural Performance
Covered in a non-corrosive aluminium coating, the aluminium reducing tee delivers structural strength and ensures a leak free air piping system. In line with the quality and performance delivered by our aluminium reducing tee, this product is warranted against material defect for up to 10 years.
If you're looking for a high performing and durable solution that will eliminate condensate throughout your compressed air piping system, then choose Infinity's Zero Condensate Aluminium Reducing Tee.