Infinity High Flow fittings are available in 63mm, 80mm and 110mm sizes.
Specifically designed for long ring main installations in large factories, the high flow series feature a cast aluminium construction, offering the same benefits as the original nickel-plated range: easy push-fit installation, minimal leakage and laminar fluid flow.
Lighter in weight and more compact in size than their nickel-plated predecessors, the aluminium series fittings boast the additional advantage of improved durability and a significantly higher, more stable velocity, particularly useful for long runs.
STILL infinite in time-saving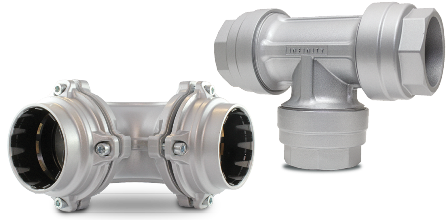 Simple push-in system, with modular connection
Easy installation, requiring only one technician
Fully adjustable and reusable, ideal for future expansion
Adapts to all existing pipe systems
Self-supporting system, requiring minimal clips
STILL infinite in quality
Internal and external corrosion free coating
Consistent air quality to every outlet
10 years warranty
Complies with Australian and European safety standards
Extremely low-pressure drop
EVEN greater ADVANTAGES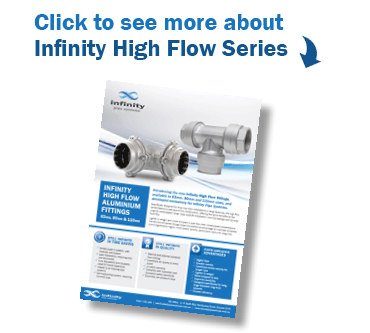 Higher flow
Greater volume
Continued stable velocity for longer runs
Lighter in weight
More compact in size
Improved durability
Designed specifically for long, large diameter ring main systems
Greater efficiency