proudly introducing our freshly updated company logo
---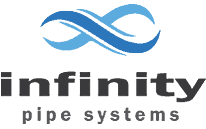 We are proud to announce the launch of the new company face as part of the ongoing evolution of our company's brand. Infinity Pipe Systems has grown and evolved over the years, and we felt it was time for a change.
Today we're rolling out the first of many new or redesigned elements for our brand: the logo.
Why the Change?
Our old logo wasn't bad. In fact, it worked really well for us and our distributors for the last few years. However, we felt that our logo should more clearly represent our product, capabilities and future.
 
Our new sleek design will cement Infinity as a superior quality product in the Australian market.
2018 Catalogue & Price List
In the coming months you can expect the 2018 edition of the Infinity Engineering Catalogue and Price List. This will include exciting NEW innovative products that will complement the current range.
We hope you like this new look and feel for Infinity Pipe Systems! Look out for more updates — like an updated look in our marketing collateral and our website — as we continue to try to better serve our customers.